Food is a relevant part of cultural heritage and national identity. It can connect us to people and places. Many travellers visit other countries not just for sightseeing and cultural immersion vacations but also learn about local culinary cultures and customs.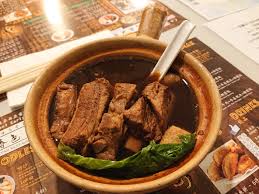 If you are planning to visit Singapore, you are in for a treat. The country is rich in culture and also rich in food dishes as they are mostly influenced by Chinese, Indian, Malaysian and Indonesian cookeries. When you visit Singapore, try their unique food. Here are some of the popular food you must try:
Bak Kut Teh (Pork Ribs Soup)
Bak Kut Teh is a popular dish in Singapore with Chinese origins. deserves its rightful recognition. It is a humble dish that is made of spices and herbs like star anise. After a good bak kut teh meal, wash it down with hot tea.
Laksa 
Laksa is a traditional Peranakan dish that blends Chinese and Malay flavours and ingredients all in a single bowl. All in the bowl includes rice noodles with shrimp, fish cakes, chicken, served in spicy curry-based coconut soup.
Chilli Crab 
Singapore is also popular with seafood. Try the signature seafood dish like Chilli Crabs. The iconic dish dates back to 1956 when street food hawker Cher Yam Tian opened a food stand next to the Kallang River.
Wanton Mee
This noodle dish is a perennial favourite in Singapore restaurants. The traditional Cantonese style has integrated well into Singaporean culture over the years. The country's version of this dish is commonly eaten dry, and then drenched with sweet sauce, slices of pork char siew and wanton dumplings.
Dim Sum
Another inspired Hong Kong/Shanghai inspired type of cuisine is Dim Sum or Dian Xin. This is not mostly a set of small dishes in one serving that are to be eaten in a group.